The Voodoo Clipper – Transforming How You Send Links via Gmail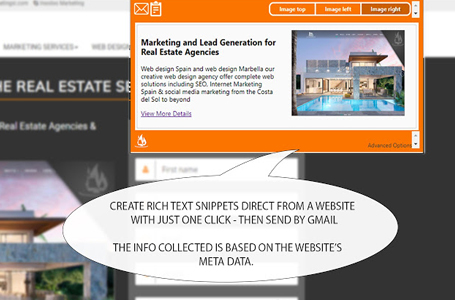 The Voodoo Clipper is a Chrome Extension designed for real estate agents and developers in mind that creates a smart new way of sending links via email, turning them into something much more than just a line of text. Now with one click you can send an attractive, web page link with description & image direct from Gmail.
Why use the Voodoo Clipper?
Prospective buyers often request information on more than one property at one time. Bombarding someone with emails and images of various listings is not only time consuming for you, but it can be a bit over whelming for the recipient. But with the Voodoo Clipper you can quickly & easily add multiple preview links of various properties leading to different web pages all in one single email – the result is almost like creating your very own mini-mail shot but directly from your Gmail account. An added bonus is that If you are using HubSpot CRM, the information/email can then be tracked and recorded on the contact's timeline.
How does it work?
Voodoo Clipper will automatically collect information from a web page to create an attractive, formatted link using the page's OG Meta data. Open Graph technology was first introduced by Facebook back in 2010, allowing integration between the platform and its user's website data. Think about what happens when you share a link on Facebook – images and text snippets are gathered from the webpage to accompany it, creating a much more appealing and inviting way to display a clickable link. Well this is the same concept behind this Google Chrome extension; it identifies which elements of your web page you want to show when someone shares your link.
Your website's Open Graph meta tags will need to be in place correctly for the clipper to work but you can easily check to see if it is by using tools such as Facebook's Sharing Debugger or Iframely – if the link previews look right then you're good to go!
Voodoo Clipper has 3 pre-set preview options to choose from or if you have coding skills, then there are also advanced options for you to create bespoke styling and content. Once you have chosen your preview option it can then be pasted directly onto your email.
If you're a technophobe you might want to give the task to set it up to someone who isn't , but once installed it's super easy to use.
How to get the Voodoo Clipper
The Voodoo Clipper is available from the Chrome Web Store at just €1.49 a month.
Click here to view or purchase the Voodoo Clipper on The Chrome Web Store
Share this: