Costa del Sol Real Estate SEO: Why Page 1 ain't always what it's cracked up to be
Does the math support the argument that page 1 of Google means lots of business?
We do have Page 1 position for many terms for many clients in many industries, and we know that the amount of business generated via organic traffic has reduced significantly over recent years. In many cases it seems that companies are getting to potential clients before they search for something on Google.
Agents who are not on page 1 of Google come to us and say, "I need to be page 1 of Google, we need leads".
Agents who are on page 1 of Google come to us and say, "We need leads, very little is coming from the website, what can we do?"
This is particularly true for the Costa del Sol real estate sector. If you were supplying eg plumbing services in Benalmadena, then it follows that when someone Google's plumbers in Benalmadena you'd want to be page 1. If you weren't you'd be losing business. It is unlikely you'd have much trouble getting to page 1 with good SEO if there were a dozen or so other plumbers in the area as there are bound to be some who don't know anything about SEO.
The Costa del Sol property sector and Marbella in particular is a whole different animal. There are probably 1000+ websites competing for a spot in the first 10 places, aka as page 1.
Take "property for sale in Marbella" on Google.co.uk – the first 3 results are Rightmove, Primelocation, MarbellaforSale.com
All three ALSO use Google AdWords, I've seen all three today.
The million dollar question is why use AdWords if already page 1?
Perhaps being page 1 for a particular term is not all it's cracked up to be?
Case study: About 2 years ago we had 2 marketing clients which I will not name on page 1 for the highly sought after term "Luxury property Marbella" and combinations thereof. We know that this did not generate hardly any leads, and this was 2 years ago. One of the two almost went out of business, and the other is currently using Google AdWords to generate leads.
Say your website is on page 1 for dozens of  search terms in all areas other than Marbella. Understandably you'd think that this doesn't help much because not many people are searching for properties in, say, Estepona, Benahavis, etc. and are probably mainly searching for Marbella properties.
This is undoubtedly true, but just how many are searching? What are the figures? Could it be a case that being page 1 for 75 search terms with low traffic could add up to more than page 1 for 10 Marbella terms? What do the figures show?
The search term one suspects is the one that everyone is searching for on Google is not necessarily the case, and in most cases you'd be surprised to know how few are actually searching for a given term.
We know this because we can check this using a keyword tool on Google AdWords which shows you how many monthly searches there are in a given country and a given language for a given term. …and although these are for exact matches only, the results can be surprising.
Let's use a real example, say a major search term: Property for sale in Marbella
Here are some stats:
80-90% of people don't go past page 1 of Google when search IF they find relevant results on Page 1. There is no doubt someone searching for property for sale in Marbella will find relevant results.
Page 1 typically has 10 results so looking at it simplistically* you have a 1 in 10 (10%) chance of achieving that for Property for sale in Marbella there are also about 11 ads which show up above and around the results. So in this case it makes it a 1 in 21 chance, 4.7% of search traffic.
Stats suggest results above the fold (top half of the screen before you have to scroll down) perform better than ones below the fold.
This is what above the fold looks like for Property for sale in Marbella today: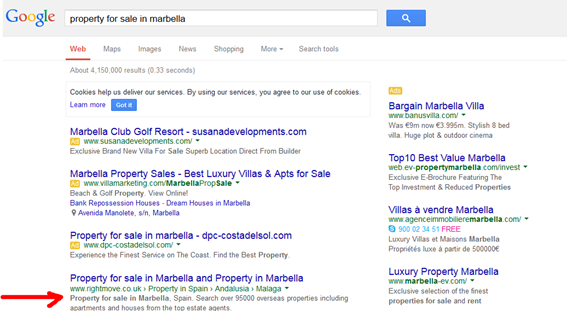 As marked in red only search result which is not an advert above the fold is Rightmove, the rest are all ads!
This supports the argument that if you want to be at "the top of Google" you've got to pay for it…
But let's ignore what is above and what is below the fold for a second and say you make it to page 1 for property for sale in Marbella (albeit below the fold) when searched in every country in the world and you share 4.7% of these monthly searches.
The average monthly Google searches across all locations over the past 12 months for Property for Sale in Marbella were:  880
So this is the math:
880 monthly searches x 4.7% = 41 visits a month.
For the UK the monthly searches are 390. So if you were page 1 for UK searches of this highly sought after term you'd generate 18 visits a month (390 x 4.7%).
If AdWords brought you about 1000 visits and you we're impressed with the business generated, 41 visits are unlikely to contribute much.
That's based on an exact match of that phrase; there will be traffic for variations properties, homes, etc.
Global Google Average Monthly Search Volumes
Keyword

Avg. Monthly Searches

Competition

Marbella real estate
1300
Medium
property for sale in Marbella
880
High
villas for sale in Marbella
320
High
Marbella apartments for sale
320
High
apartments for sale in Marbella
260
High
properties for sale in Marbella
210
High
villa for sale in Marbella
140
High
Estate Agents Marbella
140
High
Marbella estate agents
110
High
luxury property Marbella
90
High
luxury villas for sale in Marbella
50
High
Estate agents in Marbella
50
High
penthouses for sale in Marbella
20
High
luxury property for sale in Marbella
10
High
luxury apartments for sale in Marbella
10
High
townhouses for sale in Marbella
10
High
studios for sale in Marbella
–
–
Source: Google AdWords Keyword Planner 28/05/2015
Parameters: All Locations, All languages, Google, Average searches for last 12 months.
  Some estate agents spotted using Google AdWords as at 28-5-2015
Hansa Realty
Engel & Volkers
Altavista
Aylesford Spain
Siesta Homes
Marbella For Sale
Dreamlife Property
Livingstone Estates
Cloud9
Property Point
Spanish Hot Properties
ButterflyResidential2.com
Marbella Dream Living
Sierra Blanca Villas
Genius Properties
Sanara Estates
Platinum Properties
Marbella Luxury Homes
Elviria Property Centre
Costa del Home
Joyce Real Estate
Krause and Partners
Arden Estates
Ideal Country Property
Beach Homes Marbella
Star La Cala
Rightmove
Arden Estates
Sotogrande Properties
Sotherby's Realty
Green Acres
Hiperprop
Private Office Marbella
Spain Buying Guide.com
Discount Property Centre
 Bromley Estates
So the point is not to say you need to pay for ads if you want to generate leads, but to encourage you to do your research before devoting your hard earned cash to chasing page 1 for a search term you suspect will be the answer to all your (lack of leads) problems.
If nothing else, understand this, page 1 does not necessarily mean lots of leads. It depends on many many factors, starting with… how many people are actually searching for what you want to be page 1 for.
…and then there is local search –  more and more search results are affected by the geographic location of the person carrying out the search, so page 1 here does not mean page 1 there; …or the fact that most people don't clear their browsing history on the computers, and what they will see will be affected by what websites they have visited previously; …or the fact that half of searches globally are mobile searches, so are you page 1 on a mobile search as well?
Food for thought.
Does your head hurt? Join the club.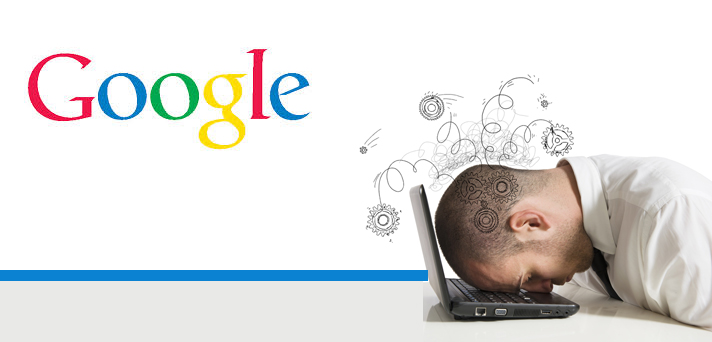 * Some research suggests ads only attract 10% of clicks, and that the top organic results gets 33% of all clicks for a search query. This research also suggests that on average he top 3 organic results (#1, #2, #3) capture 61% of clicks. That opens up a whole new can of worms… one for another day.
Share this: